Blockchain & Crypto News Flash: 08-08-2019
The latest blockchain & crypto articles - algorithmically curated, ranked, and summarized just for you.
News Flash is a weekly publication that features the top news stories for a specific topic. The stories are algorithmically curated, evaluated for quality, and ranked so that you can stay on top of the most important developments. Additionally, the most important sentences for each story are extracted and displayed as highlights so you can get a sense of what each story is about. If you want more information for a particular story, just click the heading or image to read the entire article.
You can see the other topics we have News Flashes available for
here
and sign up to receive any that you're interested in.
---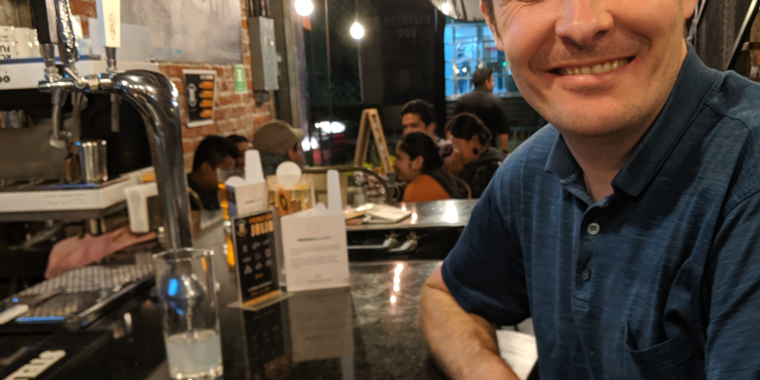 Highlights:
The fact that people continue to start businesses like Mexico City's Bitcoin Embassy demonstrates that there's still plenty of enthusiasm for the virtual currency, even after last year's crash in bitcoin's price.
"I'm kind of a punk and metal fan, so the ideology behind bitcoin was really appealing to me," Ortiz told me as we sat at Bitcoin Embassy Bar.
He operates a network of bitcoin ATMs inside his comic book shopsand now Bitcoin Embassy Barand hopes to add ATMs to other businesses in the near future.
The bar regularly hosts meet-up events for the bitcoin community, so I asked Ortiz how people were using bitcoin in Mexico and across Latin America.
She told me the chef who designed Bitcoin Embassy's menus asked Ortiz about using bitcoin to send money from overseas back to his family in Mexico.
---
Highlights:
It speaks volumes that a venerable accounting firm with over a hundred years of history chose to add privacy features to a public blockchain rather than trying to make it work with private blockchain.
Putting it all together, Chainlink offers what they refer to as, a defense in depth approach, meaning they provide smart contract creators with all the options they need, such as TEEs, multiple nodes, multiple data sources, penalty deposits, reputation systems, asymmetric encryption, ZKP, WASM, and OTP + RNG, which offer varying degrees of confidentiality and costs, depending on someones budget and security needs.-Crypto_Oracle, Chainlink and Its 4 Main Use Cases.
Ethereum 1.0 is a couple of peoples scrappy attempt to build the world computer; Ethereum 2.0 will actually be the world computer.-Vitalik Buterin at the first sharding workshop.
Vitalik Buterin has explicitly stated that the point of smart contracts is to accept a small computation penalty in exchange for a giant decrease in social costs.
A relatively simple task from a coding perspective that anyone in the community can write and contribute to the library (making it very scalable).
---
Highlights:
While over 85% of the analyzed Reddit posts were deemed to be positive in nature, articles published by various mainstream media publications such as HuffPost, Business Insider and The International Business Times were, by and large, dismissive of the crypto market.
To get a better overview of the matter, Cointelegraph has reached out to Craig Russo, owner of Peer, a Boston-based startup that is behind the popular crypto and gaming media outlet SludgeFeed.
The SEC has facilitated the emergence of Security Token Offerings which it felt was a more worthy investment vehicle when compared to traditional Initial Coin Offerings.
As part of his research, he claims to have often observed spikes in online articles when the price of a specific cryptocurrency changes.
In a similar vein, to look at the impact that social media influencers have on the crypto industry, we can turn to a few high-profile individuals such as Elon Musk and LA Chargers star Russell Okung, both of whom have been advocating for the widespread adoption of crypto for quite some time now.
---
Highlights:
The majority of serious crypto/blockchain projects that are being developed by companies around the world are hosted under the hood in private repositories, Behrad Khodayar, CTO of the Iranian blockchain startup Behkame and co-founder of a cryptocurrency exchange in stealth mode, told CoinDesk.
He uses the site to work on an Iranian bitcoin exchange, filling the gap left by LocalBitcoins, and to contribute bitcoin reward features to a video game, working as the gaming studios freelance developer.
Several Iranian sources told CoinDesk they are still able to comment on and contribute to public Bitcoin Core projects on GitHub, however, since the restriction only impacts private repos and paid services.
He added that regulatory pressures to restrict bitcoin usage have only made the Iranian public more interested in bitcoin for cross-border payments and also as a store of value.
Although relatively cheap access to electricity bolstered Irans bitcoin mining industry over the past few years, regulators are determining a new specialized price for bitcoin mining farms.
---
Highlights:
Filed by Bitwise Asset Management and VanEck, these ETFs would give investors a simpler way to gain exposure to bitcoin cryptocurrency.
Last year, the SEC rejected a bitcoin ETF application, filed by the Winklevoss twins of Facebook fame.
Hougan says that Bitwise believes it has solved the problems noted by the SEC in the Winklevoss rejection, in part, by using a regulated, insured, third-party custodian to store its bitcoin.
I asked Hougan why not just buy bitcoin through an exchange rather than using the ETF wrapper with an ongoing expense ratio?
Be very cautious about rebalancing and buying more in a down market, because if bitcoin becomes worthless, you dont want to keep sinking more money into it.
---
Highlights:
When it comes to cryptocurrency, Bitcoin has long been the king of the hill thanks to its status as the founder of the young industry and its first-mover appeal.
A decade later, the original cryptocurrency is still the most valuable one on the market, at one point even reaching as high as $20,000 for a single Bitcoin.
It seems that rumors of Bitcoin's end were greatly exaggerated and instead of fading into obsolescence, it's evolved to catch up to the Altcoin market, expanding its usability.
Instead of building the next Bitcoin, many projects have chosen instead to build on the existing Bitcoin architecture, adding new features that make the currency more usable in various situations.
Similarly, tools like the Lightning network let users take their Bitcoin transactions off chain, taking the burden off the main Bitcoin blockchain and speeding up the pace at which peripheral transactions can be verified.
---
Highlights:
Its not regulation itself that acts as a barrier to innovation, but the lack of clear regulations that is impeding progress for digital currencies and blockchain technology.
In June, Rep. Warren Davidson, R-Ohio, criticized an SEC official during a hearing for what he called the agencys third-world approach in formalizing crypto regulations.
This is due, in part, to the fact that countries such as Bermuda, Switzerland, France, Japan and Singapore are crafting policies or already have such policies in place conducive to crypto and blockchain innovation.
During the July 30 Senate Banking hearing, which focused on how to regulate digital currencies and blockchain, international trade and finance specialist Rebecca Nelson listed a slew of concerns that continue to haunt cryptocurrencies.
The problems of inequality and inefficiency that bitcoin and the cryptocurrency industry has set out to solve are not problems of technology, they are problems of policy, Mehrsa Baradaran, professor of law at the University of California, Irvine, said in her testimony.
---
Highlights:
Malte Mser, Ittay Eyal, and Emin Gn Sirer proposed this feature, known as vaults, as a way to better secure bitcoin in 2016, but their proposal required a fork of the protocol codebase.
But on Wednesday, Bitcoin Core contributor and crypto consultant Bryan Bishop sent out a design to developers to accomplish the same thing using existing code.
But if it was a malicious transaction, the rightful owner could use another pre-determined transaction to force the bitcoin back into the cold wallet, under the same time delay.
The basic components are a vaulting transaction that locks coins into a vault, a delayed-spend transaction which is the only way to spend from a vault, and a re-vaulting transaction which can recover/clawback coins from the delayed-spend transaction.
When the prior proposal came up in 2016, one developer noted that such a proposal gives a bitcoin user more pieces of data that they have to secure.
---
Highlights:
As reported by Malta Today, the unnamed man had bought a bitcoin miner from local IT firm 3 Group, but found that the power costs were greater than the value of the bitcoin earned by mining with the device.
He therefore took his complaint to Maltas Consumer Claims Tribunal, saying the unspecified 2,600 ($2,900) miner was noisy and did not make profit.
However, since the decision, the Consumer Claims Tribunal has issued a warning against Dario Azzopardi of 3 Group, saying he has not honoured the decision delivered by the Consumer Claims Tribunal.
The Tribunal noted that even though Mr Dario Azzopardi has been served with the Notice of Claim, the date and the time of the hearing, he did not attend the tribunal sitting.
The balance between running (mostly power) costs, crypto market prices and the amount of cryptocurrency earned by a mining machine is the fundamental factor that controls the mining of proof-of-work blockchains.
---
Produced and Sponsored by:
Innovative Data Science & Advanced Analytics Solutions
---

Provide Feedback | Unsubscribe